INFORMATION:
Der Kurs ist voll. Es sind keine weiteren Anmeldungen möglich.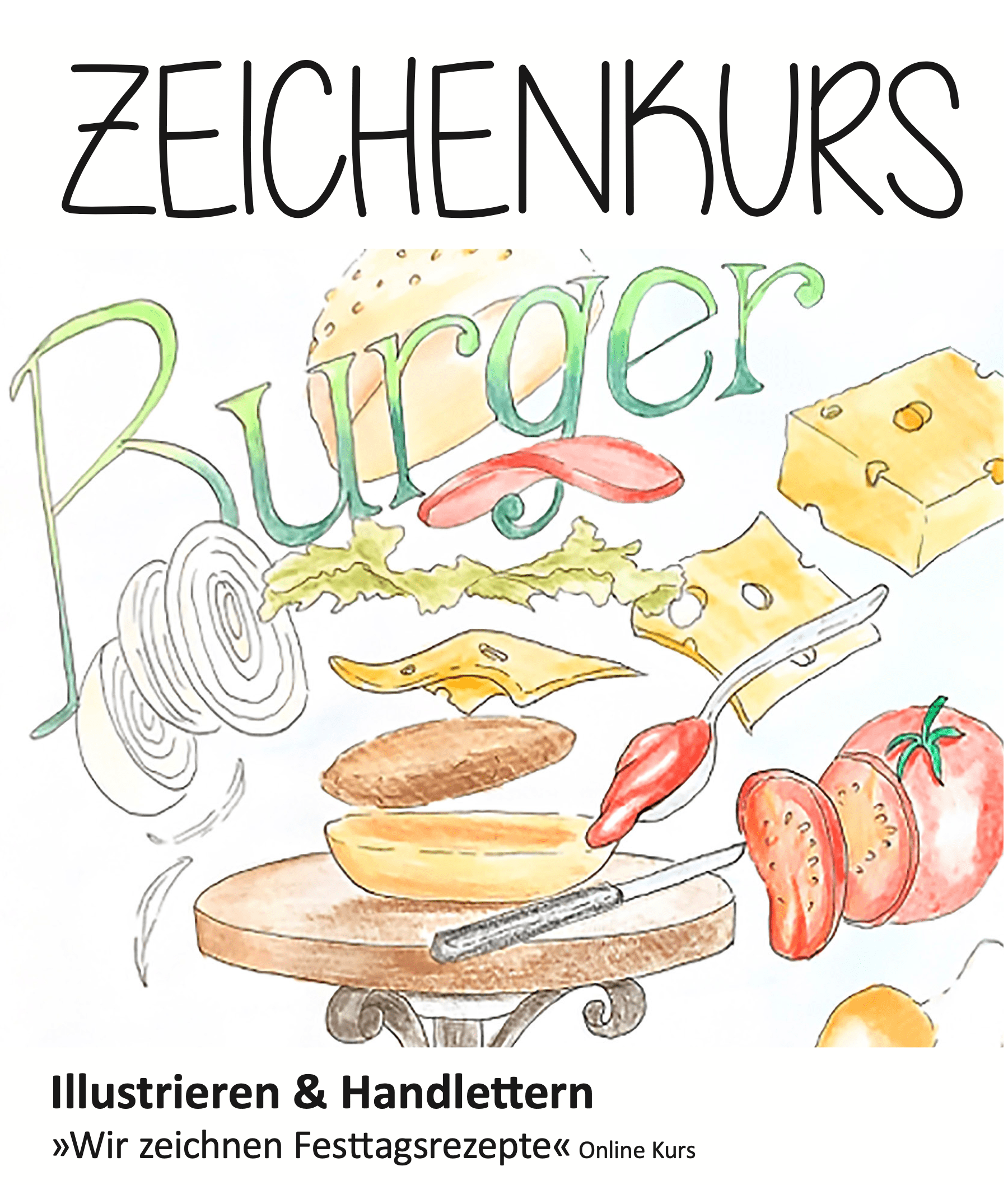 Kulturrucksack 2022
Wir zeichnen Festtagsrezepte
Ich zeichne mit euch zusammen leckere Rezepte zu Weihnachten oder Ostern, für Geburtstage oder Karneval. Sie zeigt euch, wie man wunderschöne Rezepte zeichnet und Titel sowie Zutaten per Handlettering einarbeitet.
Während des Kurses habt ihr Zugriff auf kurze Lernvideos, Arbeitsblätter mit Tipps und Anleitungen und ihr trefft euch jede Woche Freitag von 15:30 bis 16:30 mit mir online, um gemeinsam zu zeichnen. Ihr könnt in dieser Zeit Fragen stellen, mir zuschauen und an euren Rezepten zeichnen.
In den Lernvideos zeige ich euch in einfachen Schritten, wie ihr euer Rezeptmotiv plant, skizziert und wie ihr es ausarbeitet. All eure Rezepte werden am Ende von mir zu einem Kochbuch zusammengefasst.
Uhrzeit: Freitags 15:30 -16:30 Uhr, Anleitungs-Videos jederzeit
Online-Termine:  18.02.2022 – 08.04.2022 (bis zu den Osterferien),
Bitte melde dich an, damit ich dich erreichen kann: hallo(at)annikakuhn.de
Zielgruppe: ab 10-18 Jahre
English Version:
For Kids between 10 and 18 years
We illustrate your favourite recipes. Step by step I will show you how to illustrate your favorite recipe.
Time: Every friday 3:30-4:40 PM, 18.02.2022 – 08.04.2022
I will be there for you in 8 videocalls – we will draw together for an hour. Please send me an email hallo(at)annikakuhn.de, if you want to join, so I can send you the link. Below you will find the videos, I will launch the next weeks.  Have fun!
Lektion 1
In Lektion 1 zeige ich dir, wie du deine Illustration planst und skizzierst.
Lektion 2
In Lektion 2 zeige ich dir, wie du deine Illustration sauber überträgst.
Lektion 3
In Lektion 3 zeige ich dir, wie du deine Illustration mit Buntstiften kolorierst.
Dieses Projekt wird gefördert von: Kulturrucksack NRW, Landesregierung Nordrhein-Westfalen und der StädteRegion Aachen