Kulturrucksack 2021
Wir zeichnen dein Lieblingsrezept
Wir zeichnen gemeinsam dein Lieblingsrezept. Schritt für Schritt zeige ich dir in kurzen Videos an einem Beispielbild, wie du aus deinem Lieblingsrezept ein Kunstwerk machst.
Jeden Freitag von 15-16 Uhr bin ich für eine Stunde im Online-Meeting für dich da.
Der kommende Termin findet nach den Osterferien statt: 16.04.2021
Der Kurs ist ausgebucht. Du kannst dir aber gern die Videos anschauen und mir deine Ergebnisse mailen an hallo@annikakuhn.de.
Uhrzeit: Anleitungs-Videos jederzeit
Online-Termine: Freitags 15-16 Uhr (innerhalb der Laufzeit), bitte anmelden, damit ich dich erreichen kann. Eine kurze Mail genügt an hallo(at)annikakuhn.de
Zielgruppe: ab 10 Jahre
Schau dir den Trailer zu diesem Kurs an: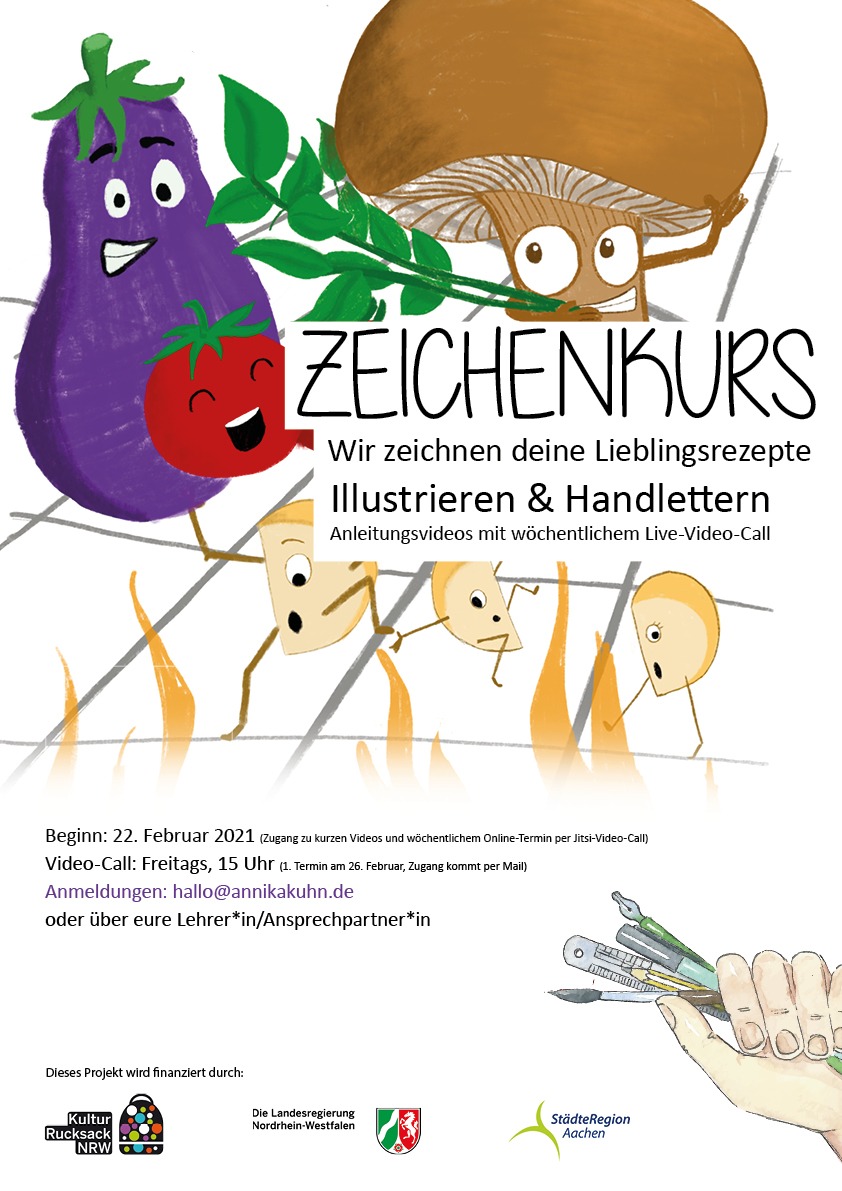 English Version:
For Kids between 10 an 18 years
We illustrate your favourite recipes. Step by step I will show you how to illustrate your favorite recipe.
Time: Every friday 3-4 p.m. I will be there for you in a videocall – we will draw together for an hour. Please send me an email hallo(at)annikakuhn.de, if you want to join, so I can send you the link. Below you will find the videos, I will launch the next weeks.  Have fun!
Lektion 1
In Lektion 1 zeige ich dir, wie du deine Illustration planst und skizzierst.
Lektion 2
In Lektion 2 zeige ich dir, wie du deine Illustration sauber überträgst.
Lektion 3
In Lektion 3 zeige ich dir, wie du deine Illustration mit Buntstiften kolorierst.
Dieses Projekt wird gefördert von: Kulturrucksack NRW, Landesregierung Nordrhein-Westfalen und der StädteRegion Aachen